Guarantees
Providing the client survives until the end of the Plan term, they will receive a Guaranteed Maturity Amount (GMA), which can either be paid directly to your client or be used to purchase another pension or retirement product, subject to eligibility. This amount is known at the outset and is not affected by investment performance risk during the term, provided it is held to maturity. The GMA is only payable on maturity. It is not payable on death, but can be paid to a dependant at the end of the Plan term providing that Dependant's Benefit has been selected.
An example of how the FTA works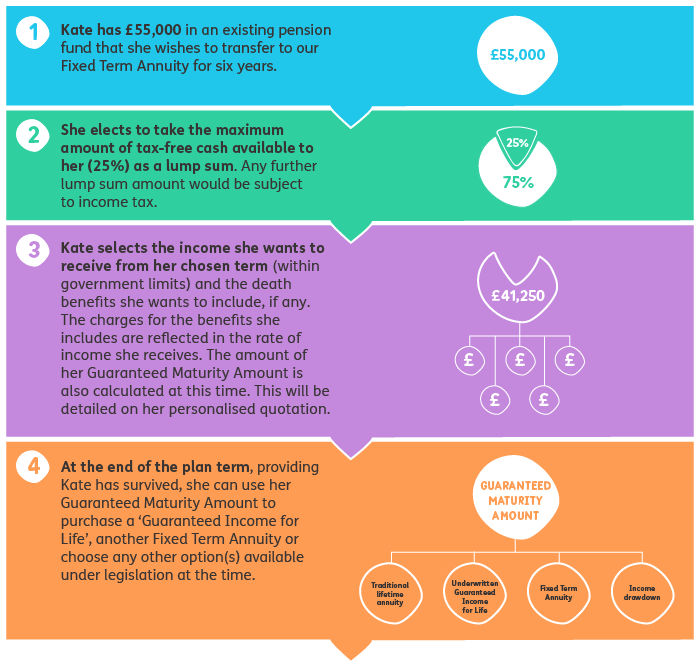 The Guaranteed Maturity Amount
The Guaranteed Maturity Amount is stated on your clients personal quotation and will depend on:
The size of the capped drawdown pension fund transferred to us
The length of the term
The amount, frequency and timing of income chosen
The death benefits chosen
Your client's age
Market conditions at the time we issue your personal quotation
Our charges to set up and administer the Plan
The adviser charge if facilitated by us from the Plan, to pay the financial intermediary for the advice given.
The greater the level of income provided, the lower the guaranteed maturity amount is, and vice versa.
For more information on our FTA please read the Key Features Document which can be found in our FTA Literature Library.