Underwritten GIfL Solutions
By applying our underwriting expertise to our Guaranteed Income for Life (GIfL) solution, we can help you create a personalised income that is tailored to the needs of your individual clients.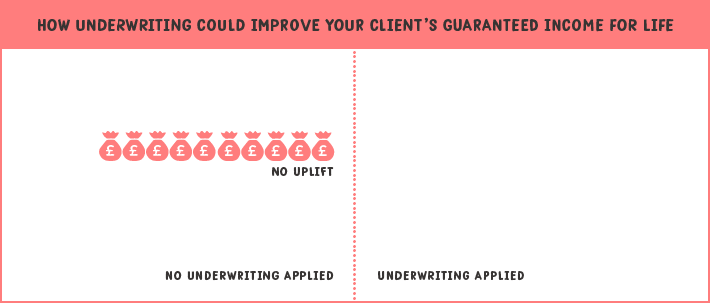 Understand your client's medical history to get the full picture
Effective underwriting could improve your client's income in retirement, achieving uplifts of up to 30% and sometimes even more.
Compared to the lowest standard guaranteed income for life solution, provided by an annuity, this could mean potential increases of up to 15% for mild conditions, up to 20% for moderate conditions and up to 30% for severe medical conditions, sometimes even higher.*
Mild: Based on an individual who is 5' 7" tall, weighing 15st 13lbs.
Moderate: Based on an individual with Type 2 diabetes, diagnosed four and a half years ago, who supplied HbA1c readings, takes one medication daily, and has 23 units of alcohol weekly.
Severe: Based on an individual with Parkinson's Disease diagnosed nine years ago, hospitalised one year ago, takes one medication daily, high blood pressure treated with one medication daily, and high cholesterol treated with one medication daily.
*Illustrations based on an individual aged 65 with a £50,000 pension fund, five-year guarantee, monthly in advance, no escalation, no value protection, no dependant's pension, based on RH2 7RT postcode. A facilitated adviser charge of 2% has been assumed. Rates compared to the lowest standard annuity rate offered via The Exchange from Iress on 06.09.2017.
The Retirement Health Form
The most frequent way of requesting an enhanced quote directly from providers is to submit a medical questionnaire called the Retirement Health Form which is accepted by all enhanced annuity providers. The form helps to indicate relevant details about their conditions which will require underwriting, and also areas which may require further information, possibly by the client's GP.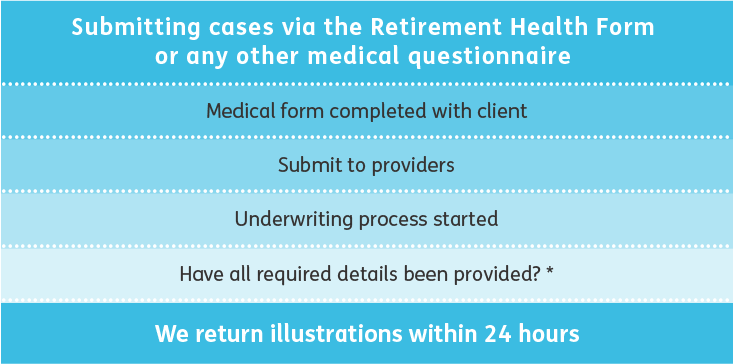 *If there is any outstanding information, the provider will ask you to obtain this from your client before returning an illustration.
You can find the latest version of the Retirement Health Form online.
Request a quote through an online portal
You can get an instant rates comparison on all providers that are able to offer terms on your client's information through online portals. Increasingly, portals are now offering an electronic Retirement Health Form (RHF), including the completion of health and lifestyle details online.