The regulator's perspective
Consumers with defined contribution (DC) savings have, since the implementation of pension freedoms in 2015, had great flexibility about how and when they access their funds. However, these freedoms come with complexity and potential risks which could have a significant financial impact on a person's retirement.
Following the introduction of pension freedoms, the FCA launched the Retirement Outcomes Review to assess how the market has evolved. The final report was published in June 2018 and that's led to a package of proposed remedies to address the concerns identified, including those policy statements listed below.
Policy Statement 21/21 - The stronger nudge to pensions guidance
+
−
To help consumers get more support on their DC pension choices, the government set up Pension Wise, offered by the Money and Pension Service (MaPS) through its MoneyHelper brand.
Pension Wise offers people free and impartial guidance about their options and associated risks so they can make informed decisions about accessing their pension funds.
Satisfaction with the Pension Wise service is very high; 94% of all appointment customers are very or fairly satisfied with their overall experience, with 88% saying Pension Wise helped improve their understanding of their pension options. However, figures show that only 14% of consumers accessing a DC pension fund for the first time used Pension Wise. In order to increase usage of this service, the FCA published PS21/21 The stronger nudge to pensions guidance, effective from 1 June 2022.
The new rules mean consumers must be given a 'stronger nudge' to use Pension Wise, and impact most stakeholders involved in pension provision: product providers (accumulation and decumulation), financial intermediaries, charities, trade bodies (see chart below for more information).
Providing this 'stronger nudge' comes in three distinct parts:
Refer the consumer to Pension Wise guidance
Explain the nature and purpose of Pension Wise guidance
Offer to book Pension Wise guidance appointment and, where the consumer accepts that offer, book the appointment or provide the consumer with sufficient information to book their own appointment.
Previously, firms had to confirm and record whether the customer had received Pension Wise guidance or regulated advice. The new rules mean they must also confirm and record whether the member declined the offer to receive the Pension Wise guidance (opted out).
Potential outcomes
These stronger nudges are designed to increase the take-up of the Pension Wise service, helping consumers to make more informed decision.
It could also lead to more people shopping around or seeking qualified advice about their options before deciding what to do. Evaluation of the Pension Wise service shows that over a third of users (36%) go on to seek professional advice, compared with 22% of non-users.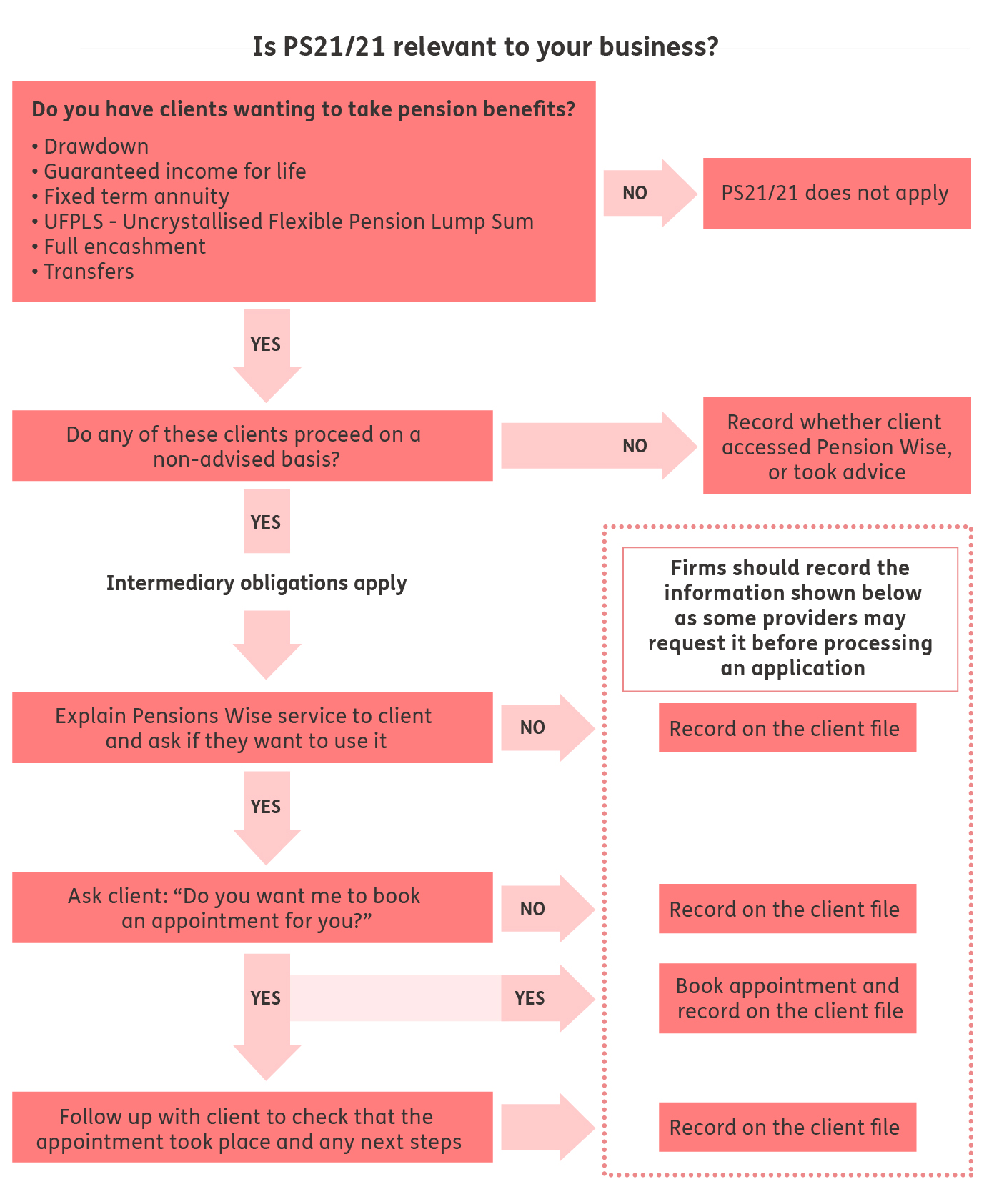 Policy Statement 19/21 – feedback on CP19/5, final rules and guidance
+
−
This included:
Introducing 'investment pathways' for consumers entering drawdown without taking advice.
Ensuring that consumers entering drawdown invest mainly in cash only if they take an active decision to do so.
Requiring firms to send annual information on costs and charges for the previous year to consumers who have accessed their pension.
Policy Statement 19/1 – feedback on CP18/17, final rules and guidance
+
−
This included:
Revised rules about the information sent to consumers before they decide how to access their pension savings.
Expectations about how firms should assess a client's eligibility for 'enhanced' annuity rates and generate market-leading quotes.
Changes to make the cost of drawdown products clearer and more comparable. Clarity around the costs of drawdown came into force in April 2020.
Contact us to discuss maximising guaranteed income for life rates