Vulnerable Customer Awards 2023
Now into their third year, these unique and very topical Vulnerable Customer Awards are the UK's only ones to recognise the outstanding efforts our financial services industry goes to to support their clients in vulnerable circumstances.
This year, more than ever, firms are under scrutiny to prove to the regulator that good consumer outcomes are embedded in the culture of the firm. These awards are the ideal opportunity to reflect, analyse and evaluate the processes, policies and practical steps that you and your firm have in place to support your vulnerable clients in achieving their desired financial outcomes.
Could you be a winner? Simply tell us your story in 800 words max and the judges will decide.
Entries are now closed for 2023
How to enter
1. Browse the entry categories and associated entry criteria, then choose the most appropriate category for yourself. Find the categories further down this webpage.
2. Use our hints and tips document to help you construct your 800 word entry.
3. Submit your entry form online. Results will be announced on 4 October.
Entries are now closed for 2023
Our expert judges
We're delighted to have such a high calibre panel of independent judges bringing industry expertise and subject area specialism.
Tish Hanifan - Founder and Joint Chair of SOLLA
Keith Richards - Chairman of the Financial Vulnerability Taskforce
Johnny Timpson OBE - Prime Minister's Champion Group Member for Dementia Communities
Sally Plant - Head of Financial Planning at CISI
John Somerville - Head of Financial Services, Corporate & Professional Learning at The London Institute of Banking & Finance
Jenny Cadman - Head of Customer Experience at Just Group
Chris Fitch - Research Fellow at the University of Bristol and Vulnerability Lead at the Money Advice Trust
Jonathan Barrett - CEO and Founder at Comentis
"These Awards are a great opportunity to recognise individuals and firms who are at the forefront of 'good practice' and help to raise greater awareness of the vital role professional advice plays in serving the needs and objectives of consumers in vulnerable circumstances, whilst equally helping them to mitigate the risk of future vulnerability." Keith Richards

Recognising excellence
All entries will be assessed with our panel of judges selecting the final winners and any highly commended entries. Winners will be presented with a trophy, certificate and marketing material to promote their win.
Winners details will be made public in October 2023.
Last years' winners
Gain some inspiration by watching our winners videos, bringing last years' winning entries to life.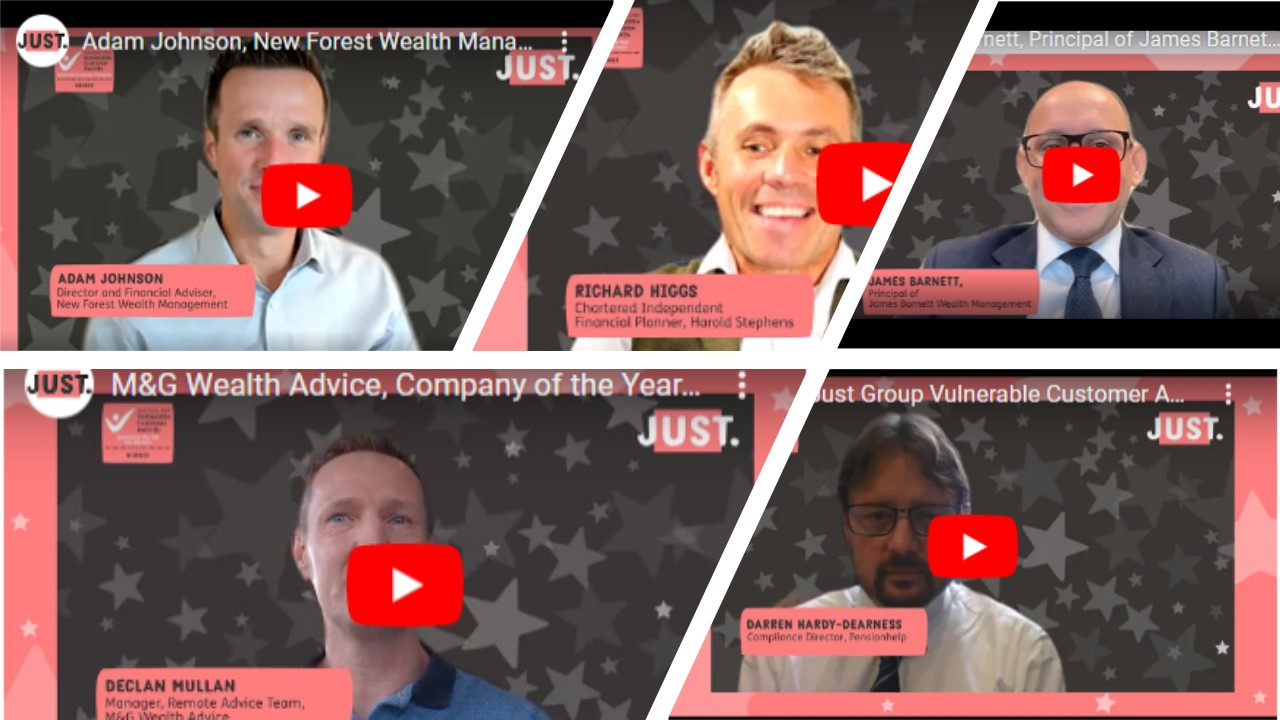 For a full list of past winners, please click here.